IT Crowd Cross-stitch
Posted on December 2, 2006 • 1 minutes • 109 words
I have mentioned the IT Crowd before and if you haven't seen it yet you need to check out the recently released DVD  or at least read some of the 1337 subtitles . In honor of the show my wife Beth has cross-stitched a great tribute the IT Crowd using a pattern we made from screen shots of the intro. Hope you enjoy!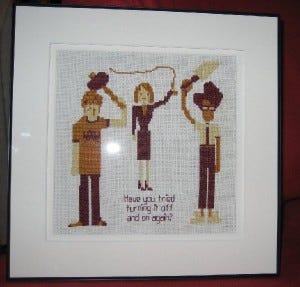 Beth's site is www.defenestrateeverything.com . Check out some more crafts she has over there. For information on purchasing this pattern for the low, low price of $3.50, please email: beth at hartfeltcrafts dot com.
© Beth Garrison 2016
---
Originally published at 1n73r.net  on December 2, 2006.